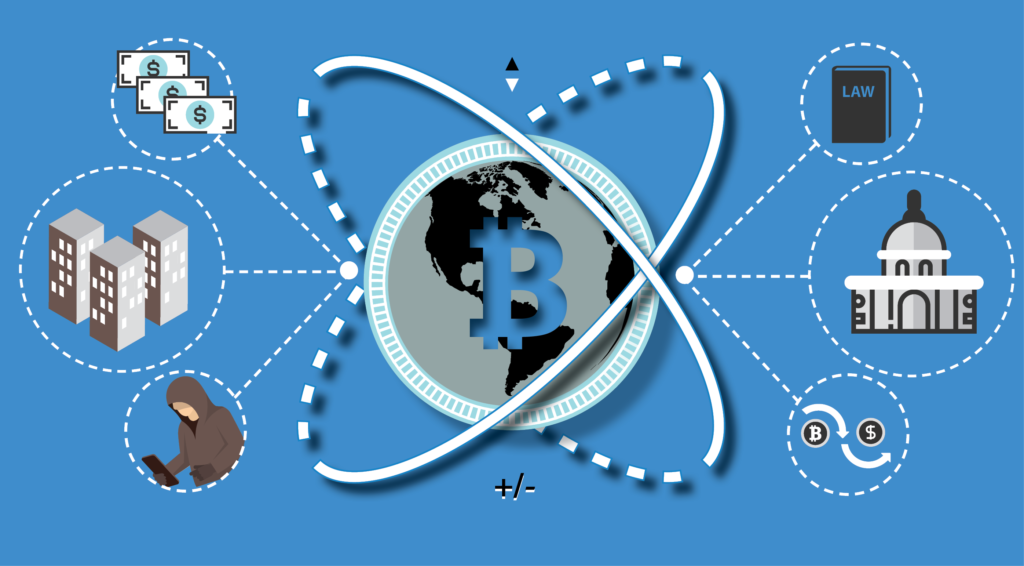 For centuries, individual governments have created, distributed, and regulated their own physical currencies. Even with the rise of checks, debit cards, and credit cards, nationalized currency is still the norm for every country on Earth. Of course, the physical currency itself isn't valuable. After all, a $100 bill isn't made with $100 worth of materials; the bill is valuable because the government says it's worth $100. So if the material itself doesn't provide the value, what if something other than physical currency could provide value too?
Even something as integrated as physical currency was still susceptible to new, digital ideas. In 2009, bitcoin was launched. While it languished in relative obscurity for its first few years, it entered the public consciousness after one high-profile case: the Silk Road marketplace. The revelation of a thriving, online black market that survived on anonymous, digital payments was frightening to many. However, it also showed what the future of currency could be. A fully digital, borderless currency has the potential to change the entire global economy. And while this economic revolution is a long way away, bitcoin continues to gain momentum, proving itself to be more than just a fad. And while bitcoin may never overtake national currencies, its ever-growing acceptance shows that it isn't going away any time soon.
From Obscurity to Omnipresence
When bitcoin was first launched, it was almost completely unknown. After all, cryptocurrencies weren't really a thing in 2009. And even until 2016, an estimated 46% of all bitcoin transactions were used for illegal goods and services [1]. Put simply, bitcoin was much more popular among the dark corners of the Internet than the general population in the coin's early days. However, in 2017, bitcoin entered the mainstream. That year, the value of bitcoin increased 1,824%, from under USD $1,000 to a then-high of USD $19,783 [2]. And while bitcoin's value remained volatile after this jump, it proved that bitcoin was more than a currency for illegal goods; it was a currency with the potential to revolutionize business and government.
In 2021, it is beginning to realize that potential. While widespread use and acceptance of bitcoin is still hypothetical, major corporations are beginning to embrace the revolutionary cryptocurrency. Businesses that accept bitcoin payments include AT&T, Overstock and PayPal [3]. And while traditional cash and credit cards still make up the vast majority of purchases at these businesses, bitcoin's increased acceptance highlights its continued momentum in 2021.
In addition to corporations' acceptance, some national governments are encouraging the use of bitcoin as well. In June 2021, El Salvador passed a law making bitcoin a legal currency in the country [4]. While it does not go into effect until September 7, this radical experiment could be the turning point for bitcoin. If successful, El Salvador could show how bitcoin can be used as an effective, convenient and stable currency. Its potential success in El Salvador could lead to more widespread adoption as legal tender in various countries, making the coin even more valuable, and more stable. However, if unsuccessful, it could highlight bitcoin's volatility, decreasing its value and slowing its momentum.
Government Regulations
While most countries don't accept bitcoin as a currency, that doesn't mean that it is free from government oversight. Although bitcoin was created as a decentralized, international currency, it is still subject to national laws. And with its growing popularity comes growing regulation. For example, China has banned banks and other financial institutions from providing services regarding cryptocurrency. This means bitcoin trading is outlawed in China, although individuals are still allowed to hold cryptocurrencies [5]. China's government blames bitcoin's high volatility for the ban, claiming that cryptocurrency trading could put individuals and the entire nation's economy at risk.
In the United States, however, bitcoin trading is legal and faces relatively few regulations. Americans are free to buy and sell cryptocurrencies with little government interference. However, it may not be this simple for long. Lawmakers are attempting to increase regulations on bitcoin and other cryptocurrencies, stating that they pose a tax evasion risk [6]. Therefore, Congress is debating the addition of more tax-reporting requirements for cryptocurrencies [7]. So while cryptocurrency faces few regulations in the United States today, it will likely become regulated similarly to stocks and gold in the future.
Finally, bitcoin has faced pressure from environmental activists as well. The process of bitcoin "mining" is energy-intensive, with high-powered computers constantly churning to solve complex algorithms. Due to this mining, the cryptocurrency itself has a larger carbon footprint than American Airlines [8]. Because of this massive environmental impact, bitcoin may not be a sustainable currency, as it will remain minable until 2140 [9].
The Future of Bitcoin
In a way, bitcoin is similar to a promising startup: It burst into the mainstream in 2017 and has shown incredible potential. However, it's going up against a powerful competitor: Physical currency. Therefore, bitcoin has to prove its worth in order to survive. Can it maintain stability and keep consumer trust? Can it offer benefits that physical currency can't? Right now, we simply don't know. However, its increased acceptance by businesses and governments can certainly lead to trust, stability and convenience. Therefore, its potential is still sky-high.
Ultimately, potential is not the same as success though. An estimated 17% of Americans now own a share of bitcoin [10]. But many of those owners see bitcoin as an investment, rather than a competing currency. And for those who don't own bitcoin, it is still seen as unstable, confusing and complex. Put simply, bitcoin is not more convenient than physical currency in 2021, and is significantly more volatile. It doesn't have the widespread use and trust that it requires to be a competing currency. So while bitcoin has certainly gained momentum and trust in recent years, it still has a long way to go before proving itself to be a viable, everyday currency.
[1] Foley, Sean, and Jonathan R. Karlsen. "Sex, Drugs, and Bitcoin: How Much Illegal Activity Is Financed Through Cryptocurrencies?" OUP Academic. April 04, 2019. https://academic.oup.com/rfs/article/32/5/1798/5427781.
[2] Morris, David Z. "Bitcoin Hits a New Record High, But Stops Short of $20,000." Fortune. December 17, 2017.
https://fortune.com/2017/12/17/bitcoin-record-high-short-of-20000/.
[3] Lisa, Andrew. "10 Major Companies That Accept Bitcoin." Yahoo! Finance. August 25, 2021. https://finance.yahoo.com/news/10-major-companies-accept-bitcoin-190340692.html.
[4] "Bitcoin to Become Legal Tender in El Salvador on Sept 7." Reuters. June 25, 2021. https://www.reuters.com/technology/bitcoin-become-legal-tender-el-salvador-sept-7-2021-06-25/
[5] "China Bans Financial, Payment Institutions from Cryptocurrency Business." Reuters. May 18, 2021. https://www.reuters.com/technology/chinese-financial-payment-bodies-barred-cryptocurrency-business-2021-05-18/.
[6] Franck, Thomas. "U.S. Treasury Calls for Stricter Cryptocurrency Compliance with IRS, Says They Pose Tax Evasion Risk." CNBC. May 20, 2021. https://www.cnbc.com/2021/05/20/us-treasury-calls-for-stricter-cryptocurrency-compliance-with-irs.html.
[7] Kelly, Makena. "Controversial Crypto Rules Remain in Infrastructure Bill after House Vote." The Verge. August 25, 2021. https://www.theverge.com/2021/8/25/22641375/cryptocurrency-infrastructure-irs-tax-developers-miners-bitcoin.
[8] Mellor, Sophie. "Elon Musk Is Right: Bitcoin Mining Is Bad for the Planet." Fortune. May 13, 2021.
https://fortune.com/2021/05/13/musk-bitcoin-mining-bad-planet-heres-how-bad/.
[9] Hayes, Adam. "What Happens to Bitcoin After All 21 Million Are Mined?" Investopedia. August 23, 2021. https://www.investopedia.com/tech/what-happens-bitcoin-after-21-million-mined/.
[10] "About 46 Million Americans Now Own Bitcoin." Nasdaq. May 14, 2021.https://www.nasdaq.com/articles/about-46-million-americans-now-own-bitcoin-2021-05-14.