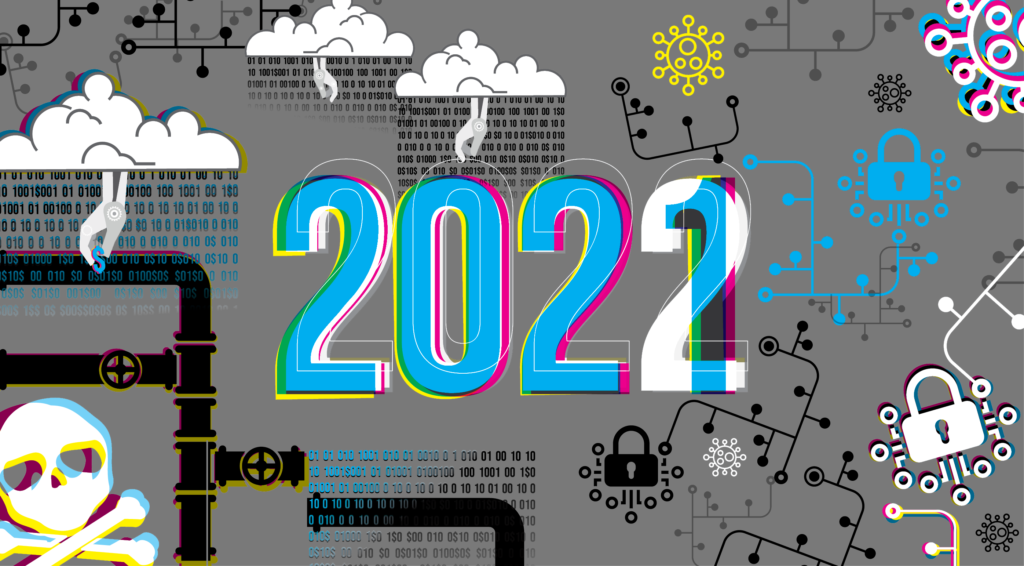 Throughout 2021, cybersecurity incidents have grabbed headlines across the world. Although the topic may not have been at the forefront of most people's minds in 2021, cybersecurity has greatly affected everyone's life in some way. From vicious cyberattacks to genuine progress on user privacy, cybersecurity has undoubtedly had a long, eventful year. And although exciting progress has been made in some areas of cybersecurity, cybercrime and other online attacks will, unfortunately, continue into 2022 and beyond.
2021 has been a long year for many, particularly for cybersecurity experts. Here are all the ways cybersecurity has changed for the better (and worse) throughout the past year.
COVID Phishing
Near the beginning of 2021, COVID-19 vaccinations became readily available to people in the United States. While this helped minimize the negative effects of the pandemic, it also offered a new opportunity for scammers. As businesses and governments began to mandate COVID vaccinations, cybercriminals responded by creating phishing emails that disguised themselves as genuine business emails [1]. From fake vaccine-record upload sites to emails from phony public health organizations, scammers used the uncertainty and anxiety of COVID to make a quick buck off of unsuspecting people.
Unfortunately, phishing emails aren't the trick cybercriminals are using. COVID scams are coming from all angles, including texts, social media posts, and robocalls. In fact, the Federal Trade Commission (FTC) has logged over 600,000 complaints in 2021 regarding COVID-related scams. In all, these scams have cost consumers over USD $600 million [2]. And with COVID remaining in the public spotlight into 2022, these scams are likely to continue. With this in mind, it's important to brush up on cybersecurity tips. Check out AXEL's blog, The History of Internet Spam, to learn how to protect yourself from phishing emails, social media spam, and more.
Colonial Pipeline Attack
In May, the Colonial Pipeline, an oil pipeline that supplies much of the gasoline to the Southeastern United States, was struck by a ransomware attack. Interestingly, the cybercriminals attacked the pipeline's billing system, rather than its operational systems [3]. Because of this, Colonial itself shut down its own pipeline, as the company would have been unable to bill customers with the ransomware. Soon after the sheer scale of the attack was realized, Colonial Pipeline paid the nearly USD $5 million ransom.
While Colonial Pipeline quickly paid the ransom, the negative consequences of the attack were felt by consumers for weeks. States from New Jersey to Texas faced severe gas shortages, causing price jumps and panic buying [4]. In all, the Colonial Pipeline attack affected millions of consumers, and caused a severe breach of trust in Colonial Pipeline. Undoubtedly, 2021's most memorable cyberattack was a doozy.
Ransomware is Evolving
When thinking of ransomware, many people picture a single offender, causing digital chaos while hunkered in a dark basement. However, this stereotype of modern cybercriminals is far from the truth. In 2021, ransomware groups are practically businesses, regularly recruiting new hackers to join criminal enterprises. Nowadays, just a handful of organizations are the perpetrators of most ransomware attacks [5]. And these shady organizations have ransomware down to a science.
Some ransomware organizations even offer customer service help desks to help victims pay the ransom and receive the decryption key. This is possible because of skyrocketing ransom demands. In fact, the average ransom payment was over USD $310,000 last year [5]. But because there's little action that can be taken after being struck with ransomware, businesses and firms are usually forced to pay the extraordinary cost. In 2021, cyberattacks aren't just individuals wreaking havoc; they're carried out by well-funded, well-organized criminal syndicates. That's why it's vital to stay up to date on the latest strategies to protect yourself, your business, or your firm.
Crackdowns on Russian Cybercrime
One of the most notorious ransomware organizations is REvil, a Russian-based cybercrime syndicate responsible for many of the most expensive ransomware attacks. REvil had a successful first half of 2021, attacking JBS Foods and extracting USD $11 million from the meat-processing giant [6]. However, following this attack, REvil finally began to face crackdowns from law enforcement.
In September, the FBI hacked into REvil's servers, obtaining a universal decryption key. Even worse for the group, the FBI remained hidden even after gaining access to REvil's information, giving law enforcement more time to prowl around the servers of the shadowy criminal enterprise [7]. With this information, the United States Department of Justice coordinated arrests against two alleged REvil members, along with retrieving USD $6 million in cryptocurrency from the group [8]. This action greatly impaired REvil's work, highlighting the strategies law enforcement can take in the future to shut down similar criminal organizations.
The Rise of Multi-Factor Authentication
Whenever you log in to Google, Facebook, or nearly any other secure website, a password simply isn't enough anymore. Multi-Factor Authentication (MFA) has become the norm among most sites, requiring anything from text authentication to security questions to successfully log in. While this can be a headache for some users, it undoubtedly prevents countless cyberattacks each year. After all, passwords just aren't the same as they used to be.
In fact, Microsoft is even allowing users to simply not have passwords. Instead, the company offers a mixture of authenticators including security keys, SMS verification, and email verification [9]. While the traditional password is unlikely to go away soon, the pivot to MFA highlights the extra security measures that companies are taking to protect users (and themselves). MFA is one of the cheapest, easiest, and quickest ways to protect user privacy, and its widespread adoption is a positive step toward a more secure digital future.
What to Expect in 2022
While there have been both positive and negative developments for cybersecurity in 2021, the problems that have plagued individuals and businesses are likely to continue into 2022. Ransomware isn't going away any time soon, even with the crackdown on REvil. Phishing emails will remain, and will simply take advantage of other current events to harm individuals. Finally, MFA will remain widespread, and will hopefully lead businesses to take even more precautions against cybercrime. In 2022, cybersecurity will remain a vital issue for businesses and individuals alike. However, if appropriate precautions are taken by all, we can make 2022 a disastrous year for cybercriminals.
About AXEL
In today's chaotic Digital Age, hacks, data breaches and ransomware attacks are an everyday occurrence. That's why data security and user privacy remain as important as ever. At AXEL we believe that privacy is a human right, and that your information deserves the best protection. That's why we created AXEL Go. AXEL Go uses 256-bit encryption, blockchain technology and decentralized servers to ensure it's the best file transfer software on the market. Whether you need cloud video storage or cloud file management, AXEL Go is the secure file hosting solution. If you're ready to try the best file sharing app for PC and mobile devices, try two free weeks of AXEL Go here.
[1] Hunter, Tatum. "That Email Asking for Proof of Vaccination Might Be a Phishing Scam." The Washington Post. WP Company, September 24, 2021. https://www.washingtonpost.com/technology/2021/08/24/covid-vaccine-proof-scam-email/
[2] Waggoner, John, and Andy Markowitz. "Coronavirus Scams – Beware Fake Claims, Phony Websites." AARP, December 6, 2021. https://www.aarp.org/money/scams-fraud/info-2020/coronavirus.html
[3] Bertrand, Natasha, Evan Perez, Zachary Cohen, Geneva Sands, and Josh Campbell. "Colonial Pipeline Did Pay Ransom to Hackers, Sources Now Say." CNN. Cable News Network, May 13, 2021. https://edition.cnn.com/2021/05/12/politics/colonial-pipeline-ransomware-payment/index.html
[4] Bair, Jeffrey, and Javier Blas. "Petrol Shortages Sweep Us as Colonial Pipeline Remains Down." Oil and Gas News | Al Jazeera. Al Jazeera, May 11, 2021. https://www.aljazeera.com/economy/2021/5/11/petrol-shortages-sweep-us-as-colonial-pipeline-remains-down
[5] Bajak, Frank. "Ransomware, Explained: How the Gangs That Shut down Colonial Pipeline, JBS USA Operate." USA Today. Gannett Satellite Information Network, June 3, 2021. https://www.usatoday.com/story/tech/2021/06/03/how-does-ransomware-work-colonial-pipeline-jbs-usa-attacks-explainer/7520704002/
[6] Montalbano, Elizabeth. "JBS Paid $11m to Revil Gang Even after Restoring Operations." Threatpost English, June 10, 2021. https://threatpost.com/jbs-paid-11m/166767/
[7] De Chant, Tim. "FBI, Others Crush Revil Using Ransomware Gang's Favorite Tactic against It." Ars Technica, October 22, 2021. https://arstechnica.com/tech-policy/2021/10/fbi-others-crush-revil-using-ransomware-gangs-favorite-tactic-against-it/
[8] "Revil: Day of Reckoning for Notorious Cyber Gang." BBC News. BBC, November 8, 2021. https://www.bbc.com/news/technology-59215167
[9] Warren, Tom. "Microsoft Accounts Can Now Go Fully Passwordless." The Verge. The Verge, September 15, 2021. https://www.theverge.com/2021/9/15/22675175/microsoft-account-passwordless-no-password-security-feature