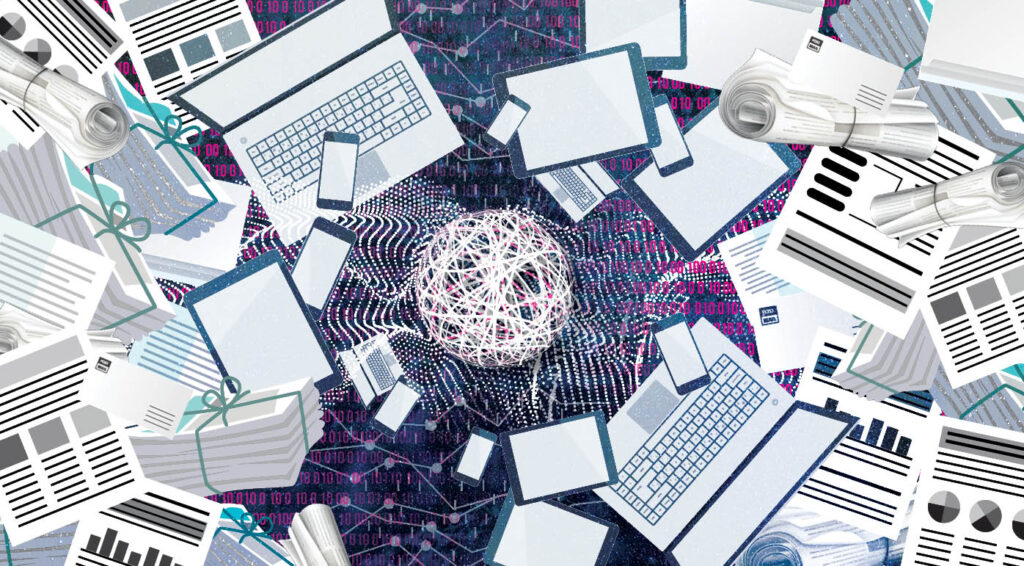 What comes to mind when you think of the word "business?" Many people will think of stereotypical corporate activities, like signing documents, sitting in cubicles, or swimming in a sea of never-ending black and blue suits. While all three of these things still permeate throughout the business world, all three are also becoming less popular. Think about it: Physically signing documents is a rarity; many businesses use e-signatures today. Cubicles are being phased out in favor of remote work. And instead of fancy suits, we're seeing our coworkers in more casual clothes (if we even see them in the office at all).
Business is changing. Of course, this shouldn't come as a surprise. After all, every industry changes with time. But business is different. In order to survive, businesses have to evolve constantly and embrace new technologies that give them an edge over the competition. If they don't, they'll be left in the dust by smarter, more modern companies. Because of this, businesses have often been the first to widely adopt and implement innovative technology. But they aren't just using technology to complement their existing practices; tech is now the backbone of every facet of business. Ultimately, the industry's willingness to try new technology has helped usher in the digital era that we live in today. Technology hasn't just helped business; it has evolved business from the ground up.
How Tech Changed Communications
It's easy to forget, but just a few decades ago, business communication was radically different than it is today. Before the Internet, businesses relied on physical papers and snail mail to communicate. Internally, businesses needed a dedicated mail worker who transferred documents from one employee to another. For team-wide updates, papers had to be posted on a bulletin board to be seen. For external communications, businesses could use telephones to communicate, but if they needed to send a document, they had to rely on mail services. While, individually, none of these tasks are particularly burdensome, that lost time lost adds up. Mail could take a few hours to organize, international shipping could last weeks, and office telephones only worked when employees were at their desks. Before the Internet, businesses tried their best to maximize efficiency, but without modern technology, communications could be painfully slow.
Needless to say, communications at top businesses aren't like this anymore. The turning point for businesses was the invention of email. All of a sudden, employees could communicate with each other immediately, and even attach documents digitally. As soon as email adoption became widespread in business, the business tech floodgates opened. Today, business software like Slack and Microsoft Teams allows coworkers to communicate instantaneously.
However, this tech isn't without drawbacks. Because of how easy it is to communicate with coworkers, many employees feel like they can't escape the office. After all, today's smartphones can easily handle emails and video calls, ensuring that the office will always be able to contact us, no matter where we are. To that point, many businesses even require workers to respond to emails on weekends and vacations. Ultimately, business communication has become so fast and simple that many workers have trouble escaping the constant connection of their workplace.
How Tech Helps Reach Customers
One of the most difficult aspects of running a business is consistently finding new customers. Regulars are great, but in order for a business to truly thrive, it needs a plan to find and convert leads into customers. Before the Internet, this process was relatively simple. Word-of-mouth, networking, and the occasional newspaper ad were the only ways businesses could seek out new customers. Of these three, word-of-mouth was the most important, as businesses lived and died based on their reputation. Before modern technology, reaching new customers wasn't all that costly. After all, positive word-of-mouth is just about the one thing a business can't buy.
Today, word-of-mouth is still one of the most important parts of finding new customers, especially for small businesses. The difference, however, is that there are now dozens of ways for businesses to generate that word-of-mouth. Today, the most popular way is utilizing Facebook advertisements. A full 66% of all small business owners in the United States used Facebook to advertise their business[1]. Ultimately, very few businesses can thrive without the help of the modern Internet. Think about it: If your business has no website, no social media presence, and isn't listed on Yelp or Google Maps, your business might as well not exist. While finding new customers is much more complex today, the multitude of ways to find new leads helps level the playing field between businesses. Now, your business doesn't need a century-long reputation in order to succeed; it just needs high-quality digital marketing.
The Rise of Data Analysis
Many business owners may not even be aware of this, but every business uses data analysis to some degree. Simply put, data analysis is the inspection of data about a business and its customers, and making inferences based on that data. One common example is when a coffee shop increases its staffing during the morning rush. The owner knew from previous data that mornings were busier, and then decided to increase staffing to alleviate the rush. For businesses, the simple formula is to collect data, identify patterns in that data, then make predictions based on those patterns[2]. Even before modern technology, businesses regularly used data analysis to increase productivity and minimize downtime.
So, what's different about data analysis today? Well, we're usually not the ones doing it anymore. These days, most high-level data analysis is being done by computers. This makes sense, as computers are able to identify patterns in data much more accurately and quickly than humans. Additionally, data analysis isn't just used for simple things like managing employee scheduling or choosing what items to stock. For the most successful businesses, data analysis is used in every area of business. From customer acquisition and targeted campaigns to new item development and supply chain management, data analysis helps businesses maximize their efficiency[3].
So, What's Next?
After looking at all the ways technology has evolved business practices, one thing is for sure: Businesses are not done changing. Simply put, if there's a way for businesses to increase their revenue, it will be utilized. And the fact is, businesses are becoming more and more reliant on computers and technology than ever before. Things like employee scheduling and data analysis, previously done by workers, are now done by computers. And, frankly, this trend is unlikely to reverse any time soon. Now, this doesn't mean computers will be the ones running businesses in a few years. But let's face it: They are already making many of the big decisions at businesses across the world.
Ultimately, technology makes businesses more efficient. Unfortunately, as businesses rely more on technology, this also means they rely less on workers. Positions including warehouse jobs, customer service, and banking services are slowly being overtaken by technology[4]. It's a sad reality, but businesses can simply be more successful with unpaid bots, rather than salaried employees. Again, technology is unlikely to replace human workers en masse any time soon. But as technology becomes more and more advanced, the most successful businesses will rely on tech more than ever before.
About AXEL
Technology is useful in every facet of business, but particularly in the area of cybersecurity. Cybercrime poses a threat to businesses big and small, highlighting the need for affordable cybersecurity solutions. That's why we created AXEL Go. AXEL Go uses military-grade encryption, blockchain technology, and decentralized servers to ensure it's the most secure file transfer software on the market. Whether you need to transfer large files or send files online, AXEL Go is the best cloud storage solution. If you're ready to try the most secure file-sharing app for PC and mobile devices, download AXEL Go for free here.
[1] "Leading Social Media Networks Used by Small Businesses to Advertise in the United States in 2021." Statista, November 18, 2021. https://www.statista.com/statistics/208971/effective-social-media-marketing-tools-for-small-us-businesses/
[2] "Why Data Analytics Is Critical for Small Businesses." AirSlate, August 17, 2021. https://blog.airslate.com/why-data-analytics-is-critical-for-small-businesses/
[3] Mills, Terence. "Council Post: Five Benefits of Big Data Analytics and How Companies Can Get Started." Forbes. Forbes Magazine, December 10, 2021. https://www.forbes.com/sites/forbestechcouncil/2019/11/06/five-benefits-of-big-data-analytics-and-how-companies-can-get-started/?sh=48b2320117e4
[4] "Council Post: Tech Experts Predict 13 Jobs That Will Be Automated by 2030." Forbes. Forbes Magazine, December 10, 2021. https://www.forbes.com/sites/forbestechcouncil/2019/03/01/tech-experts-predict-13-jobs-that-will-be-automated-by-2030/?sh=3fc53ffb22bf