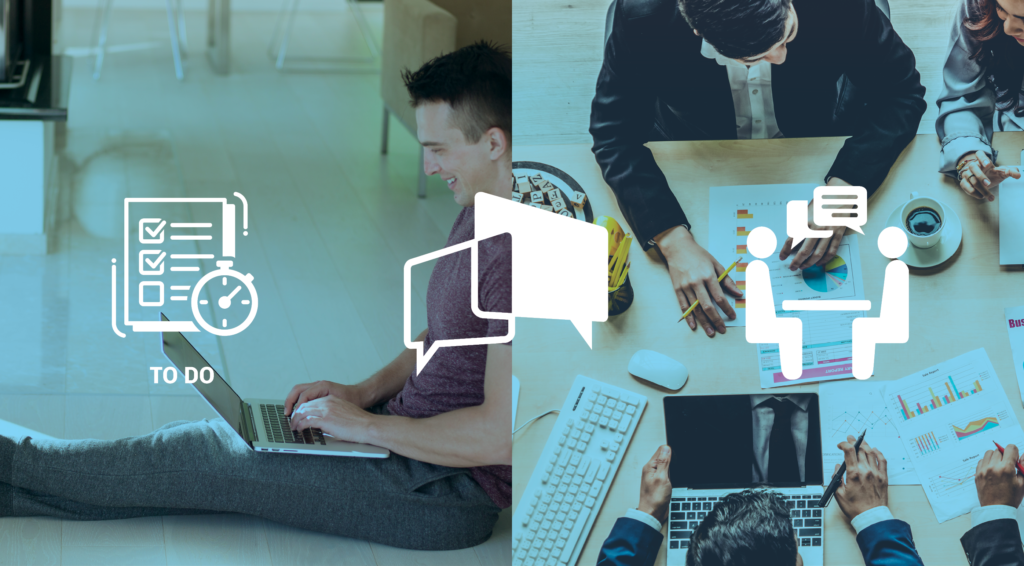 In March 2020, traditional offices were shaken by the beginning of the COVID-19 pandemic. Employees were forced to work from home, forced to learn new software and techniques just as the stress and worry of the pandemic reached an apex. For the first few months of remote work, employees learned how to do their jobs remotely, while offices remained ghost towns. Both employers and employees were stressed not only about the pandemic, but about when offices could finally reunite.
While the pandemic is waning in the United States, remote work has stayed, at least for traditional office jobs. And while some offices are transitioning back to physical workplaces, many companies are doing away with mandatory in-person work. Now, employees know efficient strategies for working remotely. And many have realized the conveniences of working from home: No more commutes, more time to watch children, and a healthier work-life balance. With both employers and employees singing the praises of remote work, it's fair to ask: What is the future of the workplace?
Opinions on Remote Work
Generally, employees like hybrid work more than employers. 55% of employees prefer working at home at least three days per week, while 68% of executives believe workers should be in the office at least three days per week [1]. This disconnect highlights the murky future of work in the United States. Employers want to maintain a strong company culture, while employees want to keep the massive benefits that come with at-home work.
And even though the United States is on the back-end of the pandemic, executives still aren't sure what the future holds. 60% of respondents to a McKinsey survey stated that their employer's workplace plans for after the pandemic were either vague or nonexistent [2]. Some executives have shown a willingness to continue remote work indefinitely, while some want in-person work to return soon. In fact, Goldman Sachs CEO David Solomon called at-home work ​​"an aberration that we are going to correct as quickly as possible [3]."
However, it is simply too early to know what the future of office work is. Of course, not every workplace has the option to work remotely. Food service workers, healthcare workers, and others simply don't have the option to work from home. McKinsey's study notes that a shift to remote work could further inequality, as remote work is likely only to be offered to highly educated, well-paid employees [4]. So while traditional offices may continue the transition to remote work, the debate around in-person versus at-home work simply doesn't apply to all workers.
Is Hybrid the Future?
But for those occupations that have shifted to remote work during the pandemic, could a compromise between employers and employees be the future of office work? A hybrid model combines remote and in-person work at a workplace. Some (or all) employees have the choice to work at home, at the office, or a combination of the two. This flexibility was necessary during the height of the pandemic, but as the country returns to normalcy, employees have gotten used to the convenience of at-home work. And the benefits extend to employers as well, as remote work means fewer costs for physical workplace expenses, including rent and office supplies.
So if there are so many benefits to remote models, why are many executives wary of this potential change? Fear of change, productivity concerns, and protecting company culture are just a few of these anxieties. However, recent studies have found that productivity has either been stable or actually increased during the transition to at-home work, in spite of technical challenges, family responsibilities, and pandemic-related anxieties. A Forbes study found that most workers thought that their per-hour productivity increased while working remotely versus in-person work [5].
Challenges of Hybrid Work
While there are benefits that come with a hybrid model, there are undoubtedly downsides as well. One well-known detriment of remote work is the social isolation that comes along with it. While staying at home can be convenient, it can also prevent workers from forming personal relationships. It could lead to fewer opportunities to learn skills that are necessary for career advancement [6].
In addition, there is a generational divide on opinions of at-home work as well. Although some may assume younger generations are more comfortable with remote work, the opposite is true. Members of Gen Z have more concerns about remote work than older generations. They list the lack of networking opportunities, few genuine connections, and general isolation as the downsides of at-home work [7].
However, hybrid models try to mitigate these drawbacks as much as possible. After all, a hybrid model offers both in-person and at-home work. So while these downsides could still exist, they could be minimized in a hybrid workplace.
Tips to be a Successful Remote Worker
Although the pandemic is winding down, it's important to know some tips and tricks to ensure you stay productive and happy during your shift.
Communicate: Without in-person meetings and checkups, everyone has to know their responsibilities. While it can be tedious, this means emailing superiors, asking questions, and being in contact with other coworkers. Clearly communicating with everyone helps ensure that tasks don't slip through the cracks.
Structure: Make a schedule to follow every workday. Plan specific hours to work on a project, and stick to the plan! Structuring your workday helps ensure you remain focused on specific projects, and also helps keep your work life and home life separated.
Visit: Whether it be a trip to the office for a short meeting, or a couple hours at a local coffee shop, getting out of the house is important. Not only does working from a different location prevent feelings of burnout, but a new location can boost productivity as well. Do work tasks at different places to see where you feel most efficient.
Overall, becoming a successful hybrid worker is about finding what makes you most comfortable. If you love talking with coworkers at the water cooler and enjoy the structure of a physical workplace, then in-person work may be for you. But if you feel more comfortable and productive at home, remote work may keep you at top efficiency. Either way, hybrid workplaces offer workers that choice, ensuring that every worker can be both comfortable and efficient at their job.
[1] Gurchiek, Kathy. "Hybrid Work Model Likely to Be New Norm in 2021." SHRM. July 06, 2021. https://www.shrm.org/hr-today/news/hr-news/pages/hybrid-work-model-likely-to-be-new-norm-in-2021.aspx.
[2] Alexander, Andrea, Aaron De Smet, Meredith Langstaff, and Dan Ravid. "What Employees Are Saying about the Future of Remote Work." McKinsey & Company. July 15, 2021. https://www.mckinsey.com/business-functions/organization/our-insights/what-employees-are-saying-about-the-future-of-remote-work.
[3] Blenford, Adam. "Remote Work Won't Be Going Away Once Offices Are Open Again." Bloomberg.com. March 5, 2021. https://www.bloomberg.com/news/articles/2021-03-05/work-from-home-workplaces-will-let-employees-mix-home-and-remote-work.
[4] Lund, Susan, Anu Madgavkar, James Manyika, and Sven Smit. "What's next for Remote Work: An Analysis of 2,000 Tasks, 800 Jobs, and Nine Countries." McKinsey & Company. March 03, 2021. https://www.mckinsey.com/featured-insights/future-of-work/whats-next-for-remote-work-an-analysis-of-2000-tasks-800-jobs-and-nine-countries.
[5] Gaskell, Adi. "How Productive Have Remote Workers Been During Covid?" Forbes. May 31, 2021. https://www.forbes.com/sites/adigaskell/2021/05/31/how-productive-have-remote-workers-been-during-covid/.
[6] "Practice Innovations: Building the Hybrid Work Environment." Thomson Reuters Institute. June 10, 2021. https://www.thomsonreuters.com/en-us/posts/legal/practice-innovations-hybrid-work-environment/.
[7] Sherr, Ian. "Gen Z Is Getting Screwed by Remote Work, Microsoft Survey Finds." CNET. March 22, 2021. https://www.cnet.com/news/gen-z-is-getting-screwed-by-remote-work-new-microsoft-survey-says/.