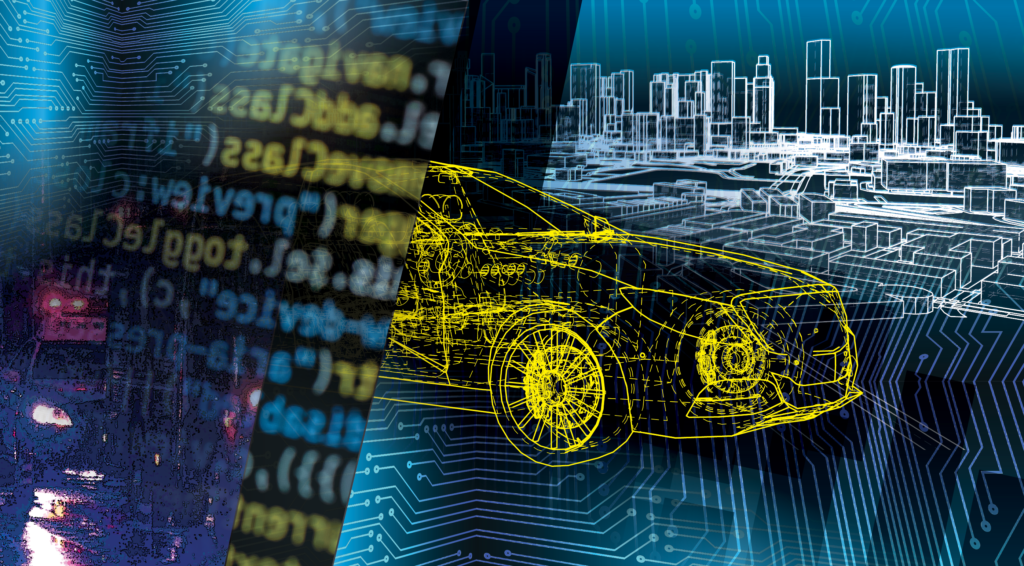 The introduction of the automobile changed not only American transportation, but American culture as well. While automobiles had existed since the late 1800s, they were typically very expensive and unreliable. However, in 1908, Ford released the Model T, an automobile made for the middle class. Sold for a measly USD $850 (a less measly USD $23,000 in today's dollars), the Model T rapidly gained popularity in the United States [1]. Ultimately, the introduction of affordable mass-market automobiles led to the car-centric transportation system the United States has today. For over a century, this system has persisted, with wide interstate highways and large parking lots dominating American cityscapes.
But even after a century of automobile innovation, relatively little has changed about the fundamentals of driving. At least one passenger must control the car at all times, and if they lose control, even for a split-second, there could be disastrous consequences. Now, in 2021, those fundamentals are beginning to change. With massive tech companies like Uber and Amazon investing heavily in this emerging technology [2], it's fair to wonder: How soon will self-driving cars become the norm? And how will this eventual change affect tech, law, and culture?
History of Autonomous Vehicles
One of the first autonomous vehicles came just a few years after the popularization of the automobile. However, this car was far from a technological masterpiece, closer to a life-size RC car than an automotive revelation. In 1925, electrical engineer Francis Houdina paraded a driverless sedan with a massive antenna down the streets of New York City. He controlled the car via remote control in a trailing vehicle. Ironically, the car crashed into another automobile full of journalists during the parade [3]. Despite the embarrassing end to the initial showcase, radio-controlled cars became tourist attractions for the next decade. Spectators were amazed by driverless cars, and automobile companies noticed. In 1935, Chevrolet even advertised the benefits of self-driving cars in an automobile safety video [4]. Even when mass-market automobiles were just beginning to flourish, a future filled with autonomous vehicles was dreamt by consumers and automakers alike. However, while automobile companies continued research and development into self-driving cars, it amounted to little else but prototypes and tourist gimmicks.
Beginning in the early 2010s, these prototypes and gimmicks began to have legitimate functionality. Cars manufacturers began to include features that were previously limited to autonomous vehicle prototypes. For example, in 2013, Mercedes-Benz released a luxury car featuring automatic braking, adaptive cruise control and parking assistance [5]. While this tech was exclusive to high-end cars years ago, features like parking assistance and automatic braking are regularly included in more affordable cars today. However, the biggest step toward a future with self-driving cars was made by Tesla. The electric-vehicle company introduced its "autopilot" software in 2015, allowing drivers to take their hands off the wheel while driving [6]. While Tesla's autopilot feature isn't fully autonomous, it is one of the first auto manufacturers to produce a mass-market vehicle with significant autonomous capabilities.
Why Autonomous Could be the Future
First and foremost, auto manufacturers are embracing self-driving cars because of their safety. Put simply, humans are not better drivers than robots. Self-driving cars would be able to make split-second decisions quicker than humans. Additionally, an autonomous vehicle future could wipe out incapacitated driving, which makes up 10% of all car crashes [7]. Altogether, one study states that a future with fully autonomous vehicles could cut traffic accidents by at least 34% [7]. While 34% fewer crashes may not seem like a massive decrease, it could have life-saving effects. There were an estimated 36,120 car crash fatalities in 2019 in the United States [8]. If 34% of those crashes were averted by autonomous vehicles, it could save over 12,000 lives each year.
Finally, consumers are drawn to autonomous vehicles because of their convenience. Self-driving cars could put an end to the stresses and anxieties of driving. After all, driving has always required the driver's complete attention; to the point where eating while driving is heavily discouraged, and texting while driving is illegal in most states. Driving requires full, undivided attention. And for heavy-traffic areas or long road trips, this can be inconvenient for drivers. A future where drivers can send emails, talk to passengers or even nap is incredibly appealing to most drivers. While fully autonomous vehicles are still a long way away, it's clear why consumers are interested in self-driving cars as well.
Why Autonomous Cars Could Flounder
One of the biggest obstacles facing automakers isn't one of technological capability, but legal culpability. Right now, in almost every car crash, one of the affected drivers is at fault. Most importantly, the at-fault driver is often on the hook for financial penalties. But if all vehicles are autonomous, and there's a crash, who is responsible? Because we are nowhere near this level of automation yet, we simply don't know what the law will be in the era of self-driving cars. Could auto corporations be found at fault? If they are, why would companies continue to make autonomous vehicles if each one could mire the company in a lawsuit? Simply put, there are massive legal questions regarding autonomous vehicles that we don't know the answer to, and won't know until self-driving cars are much more integrated into society.
Finally, concern among consumers regarding privacy could cause the future of self-driving cars to sputter. Autonomous vehicles could become yet another device that collects and sells your personal data to advertisers. Even worse, these self-driving cars would have access to loads of unique data points, including travel histories and voice recordings. And because self-driving cars require software updates for new roads, even cars could become subject to ransomware attacks and other cybercrime. While autonomous vehicles can offer unparalleled convenience for their users, they can also force new, invasive forms of surveillance.
Stay Safe with AXEL Go
While AXEL Go can't protect your autonomous car from ransomware (yet), it can protect your most important files from cybercrime. Offering industry-leading encryption and decentralized blockchain technology, AXEL Go is the best way to protect yourself or your business from data breaches and cybercrime. With AXEL Go, there's no compromise between security and privacy rights. After all, our business is protecting your data, not collecting it. If you're ready to try the most secure file-sharing and storage software, get two free weeks of AXEL Go here.
[1] History.com Editors. "Model T." History.com. A&E Television Networks, April 26, 2010. https://www.history.com/topics/inventions/model-t
[2] Palmer, Annie. "Amazon Zoox Unveils Self-Driving Robotaxi." CNBC. CNBC, December 14, 2020. https://www.cnbc.com/2020/12/14/amazons-self-driving-company-zoox-unveils-autonomous-robotaxi.html
[3] Engelking, Carl. "The 'Driverless' Car Era Began More than 90 Years Ago." Discover Magazine. Discover Magazine, May 17, 2019. https://www.discovermagazine.com/technology/the-driverless-car-era-began-more-than-90-years-ago
[4] Chevrolet Presents: The Safest Place. YouTube. YouTube, 2013. https://www.youtube.com/watch?v=cilh7br-P80
[5] Ingraham, Nathan. "Mercedes-Benz Shows off Self-Driving Car Technology in Its New $100,000 S-Class." The Verge. The Verge, May 18, 2013. https://www.theverge.com/2013/5/18/4341656/mercedes-benz-shows-off-self-driving-car-technology
[6] Golson, Jordan. "Volvo Autonomous Car Engineer Calls Tesla's Autopilot a 'Wannabe'." The Verge. The Verge, April 27, 2016. https://www.theverge.com/2016/4/27/11518826/volvo-tesla-autopilot-autonomous-self-driving-car
[7] Baldwin, Roberto. "IIHS Study: Autonomous Cars Won't Avoid Majority of Vehicle Crashes." Car and Driver. Car and Driver, November 10, 2020. https://www.caranddriver.com/news/a32783046/iihs-autonomous-cars-not-as-safe-study/
[8] Media, NHTSA. "Early Estimates of 2019 Motor Vehicle Traffic Data Show Reduced Fatalities for Third Consecutive Year." NHTSA. NHTSA, May 5, 2020. https://www.nhtsa.gov/press-releases/early-estimates-2019-motor-vehicle-traffic-data-show-reduced-fatalities-third