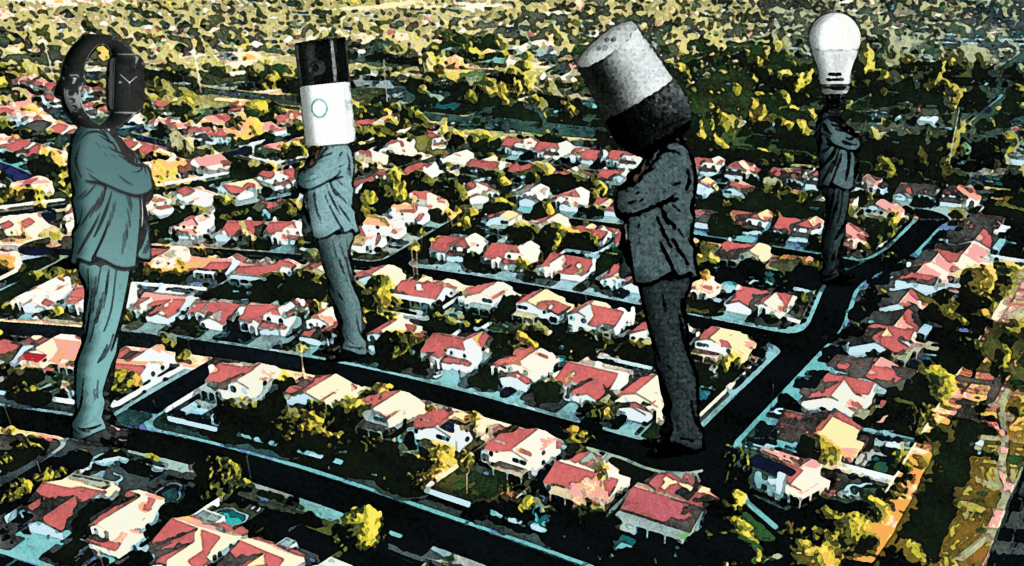 The Internet of Things is a remarkable push to bring data collection to a broader range of devices. As technology becomes cheaper, smaller, and more powerful, the internet has found its way into unlikely places. The Internet of Things brings conveniences and insights into the lives of the layperson and the daily dealings of businesses all around the world. What can we gain from the Internet of Things? What happens when the Internet of Things turns its back on us?
What is the Internet of Things?
The Internet of Things is a distributed method of connecting mundane objects, or things, to smart devices and the internet at large. This is done by attaching sensors and transceivers to these objects and directing them to share information that may make end-user lives more convenient[1].
The classic example of an IoT-enabled device is a smart refrigerator. The utility of a refrigerator is bolstered by the inclusion of a few sensors and the ability to communicate. We can extend the lifespan of these refrigerators by predicting service needs and reporting points of failure as soon as they arise. Consumers are able to streamline their grocery shopping, saving time in their increasingly busy lives.
The benefits of the Internet of Things on a consumer level are numerous. On a commercial grade, they are unparalleled. We can use IoT-enabled devices to drive down overhead costs by taking preventive measures when our servers and production devices ask for regular maintenance. Data points can be gathered from clients at trade shows or in our stores that can further create comfortable and lucrative transactions. Security methods such as intrusion detection and loss prevention can once again be in the hands of the business owner with IoT connectivity.
What are some common IoT Risks?
The Internet of Things relies on the deployment of additional points of internet access, a haphazard deployment of IoT-enabled devices in a workplace can result in easily-missed holes in the digital security fence of your workplace. Password protection and shoddy firmware can lead a savvy hacker directly into a company's most private data. Ransomware attacks could ironically arrive through an unsecured security camera[2].
Beyond security issues, privacy itself may be at risk when adopting IoT-enabled devices. Smart doorbells, for example, give local law enforcement nearly unrestricted access to the video data passing through the connection between the camera and the end user. Bringing on a device that promises to bring the conveniences of the Internet of Things needs to be a process taken on carefully and with a careful eye on end-user agreements.
Inviting the internet into your company creates an interesting set of vulnerabilities that may not have existed before. One thing to be said about simple machines is that they are entirely secure from a digital standpoint. Adding sensors to the devices running your production infrastructure or connecting devices that previously could not communicate with the internet eventually requires more infrastructure than before.
The Internet of Things relies on edge computing solutions[3]. These are solutions that bring computing power and storage away from the cloud and closer to the place of business. This distributed method of computing brings power and stability to IoT-enabled devices, allowing them to gather and process more data without losing speed or increasing latency. Edge computing solutions come in hardware form, like additional servers, or a software form, like bespoke applications or computing protocols. By virtue of existing near your private data, these secondary computing solutions open up a workplace to cyber-attacks and privacy concerns.
How Does AXEL Go Protect You?
The shortcomings of the Internet of Things should not scare workplaces away from the conveniences and the massive data-related insights that can come from the clever integration of sensors and transceivers. Like anything else, informed decision-making and a safety-first mindset will prevent the Internet of Things from eroding the privacy and security of a workplace.
Adding additional points of failure to a network means that a business's privacy and security will find themselves quickly under fire. AXEL Go is a file sharing and storage service that is dedicated to protecting privacy and security wherever possible. Our decentralized server structure and cutting-edge AES 256-bit encryption offer top-of-the-line security in the face of ransomware and brute force attacks. AXEL Go also guarantees your privacy when using our IPFS servers. Only authorized users have access to the contents of your storage. Not even AXEL is able to peer into your end-to-end encrypted storage. 
As technology moves forward in innovative directions, AXEL Go is ready to provide the security and privacy required to keep making the internet a safe and convenient place.
Try AXEL Go Today
AXEL Go is an incredibly versatile tool in the fight for cyber security. Implementing our decentralized, encrypted storage into a workplace will create a robust bulwark between sensitive workplace data and any clever exploits hackers can slip through the cracks.
AXEL Go is a file storage and sharing service designed to revolutionize how we think about security online. Our user experience design is focused on handing top-of-the-line security to any business of any size. Our AES-256 bit encryption and decentralized server structure thwart cyber attacks on big businesses as competently as it protects local operations. No matter how tight the budget for your practice may be, we are the perfect fit for secure, intuitive storage and file sharing. You can try AXEL Go premium for free for 14 days. See what security backed by our $10,000 guarantee can do for your business.
---
Citations
[1]Fruhlinger, Josh. 2022. "What Is Iot? The Internet Of Things Explained". Network World. https://www.networkworld.com/article/3207535/what-is-iot-the-internet-of-things-explained.html.
[2]Iredale, Gwyneth. 2022. "Security & Privacy Issues In The Internet Of Things (Iot)". 101 Blockchains. https://101blockchains.com/security-and-privacy-in-iot.
[3]Gold, Jon, and Keith Shaw. 2022. "What Is Edge Computing And Why Does It Matter?". Network World. https://www.networkworld.com/article/3224893/what-is-edge-computing-and-how-it-s-changing-the-network.html.