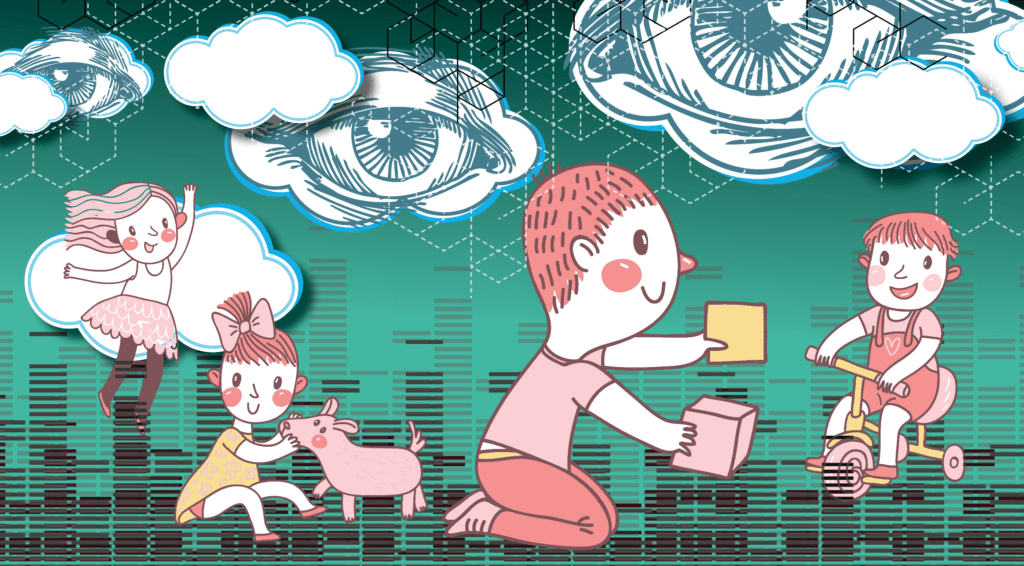 Generation Z and Generation Alpha are defined by their relationship to the internet. These young adults, teenagers, and children have been raised in a media landscape dominated by online entertainment, communication predominantly via social media, and a world interconnected like never before. The internet for these people comes as naturally as walking and talking, but because these generations were young when big tech began collecting their data, they are in a uniquely bleak position. 
Big Tech and Young People's Data
It is well known now that Meta, Twitter, and Google make their money by collecting, organizing, and selling the data of their customers. This data, is usually sold to advertisers to precision-target users on the internet at every turn. Nearly every interaction on the internet these days is tracked in some form or another and collected by data collection agencies. This data can be used to create a disturbingly accurate profile of every user's likes, dislikes, and future potential behavior.
Privacy laws have grown and changed over the last decade or so to allow users the opportunity to opt out of this invasive process. Many adults that have had the opportunity to know life apart from the internet have grown distrustful of data collection and seized the chance to opt out, but Generations Z and Alpha find themselves unprotected in a way that Millennials and Generation X were not. Generation Z has been unwittingly handing its data over to Big Tech for their entire lives. Their parents, though they may have had a passing understanding of personal data collection, were not adequately prepared to defend the data of their minors.
This means that young people have not only been given no opportunity to protect their privacy, but their understanding of what privacy looks like has also been drastically altered in favor of data collectors and Big Tech.
Big Tech's Failings
Big Tech is a collection of incredibly powerful businesses driven by profit. These companies may have individuals within them that want nothing more than the safety and privacy of their users, but the size of these companies and their profit demands easily overpower the best intentions of any single good actor.
Meta especially has been the face of teenager-related failings. Lawsuits against Meta were filed in Colorado, Delaware, Florida, Georgia, Illinois, Missouri, Tennessee, and Texas accusing the site of unduly exploiting teenagers and other young people on their apps. The vice grip they have over the data of young people from the moment they set foot online has given the company the broadest possible view of an impressionable age group before they had the opportunity to opt out.
Even if these young people try to remove themselves from Meta and its umbrella of media sites, their data will live on in perpetuity on Meta's servers, effectively stripping a generation of people of their digital privacy until something changes.
The National Programs' Center for Industry Self-Regulation has introduced a roadmap for securing the data of young people aged 13-17. A large part of this attempt at social media regulation is curtailing the addictive designs of social media companies. Part of their ability to draw so much data out of teenagers is the pernicious design of these apps combined with a lack of data collection oversight.
This minimal amount of pushback from The National Programs' Center for Industry Self-Regulation and legislation from the UK has already seen adjustments in behavior from social media companies. TikTok and Facebook, for example, have begun tightening their privacy settings for users under the age of 18, giving young people on the internet the opportunity to achieve the same privacy afforded to adults without having to jump through as many deliberately opaque hoops. The speed at which these companies have fallen in line after a whiff of pushback shows that there is a future where privacy is possible for everyone online.
Privacy Without Compromise 
AXEL understands the importance of privacy online. Users of the internet deserve the dignity of privacy no matter their age, generation, or level of technological literacy. This is why AXEL Go is built on a foundation of privacy and security. By providing a service that supplies privacy and security without compromise, AXEL Go is leading the charge for a more secure and less invasive internet. While we pride ourselves on our security, AXEL Go is first and foremost a place for users to enjoy a sense of privacy that has been missing from the internet for years now.
Protect Your Privacy With AXEL Go
AXEL Go is an incredibly versatile tool in the fight for cyber security. Implementing our decentralized, encrypted storage into a workplace will create a robust bulwark between sensitive workplace data and any clever exploits hackers can slip through the cracks.
AXEL Go is a file storage and sharing service designed to revolutionize how we think about security online. Our user experience design is focused on handing top-of-the-line security to any business of any size. Our AES-256 bit encryption and decentralized server structure thwart cyber attacks on big businesses as competently as it protects local operations. No matter how tight the budget for your practice may be, we are the perfect fit for secure, intuitive storage and file sharing. You can try AXEL Go premium for free for 14 days. See what security backed by our $10,000 guarantee can do for your business.
---
Citations
"New Teen Data Roadmap Seeks To Fill Gap In Kids' Privacy Law". 2022. News.Bloomberglaw.Com. https://news.bloomberglaw.com/privacy-and-data-security/new-teen-data-roadmap-seeks-to-fill-gap-in-kids-privacy-law
"Opinion | Gen Z Has Never Known A World Without Data Sharing (And It Shows)". 2022. NBC News. https://www.nbcnews.com/think/opinion/teens-have-never-known-world-without-data-sharing-it-s-ncna1254332.
"Meta, Instagram Hit With 8 Lawsuits For 'Exploiting Young People For Profit'". 2022. Nypost.Com. https://nypost.com/2022/06/12/meta-instagram-hit-with-8-lawsuits-for-exploiting-young-people-for-profit
2022. https://www.wsj.com/articles/meta-tiktok-could-face-civil-liability-for-addicting-children-in-california-11656419401