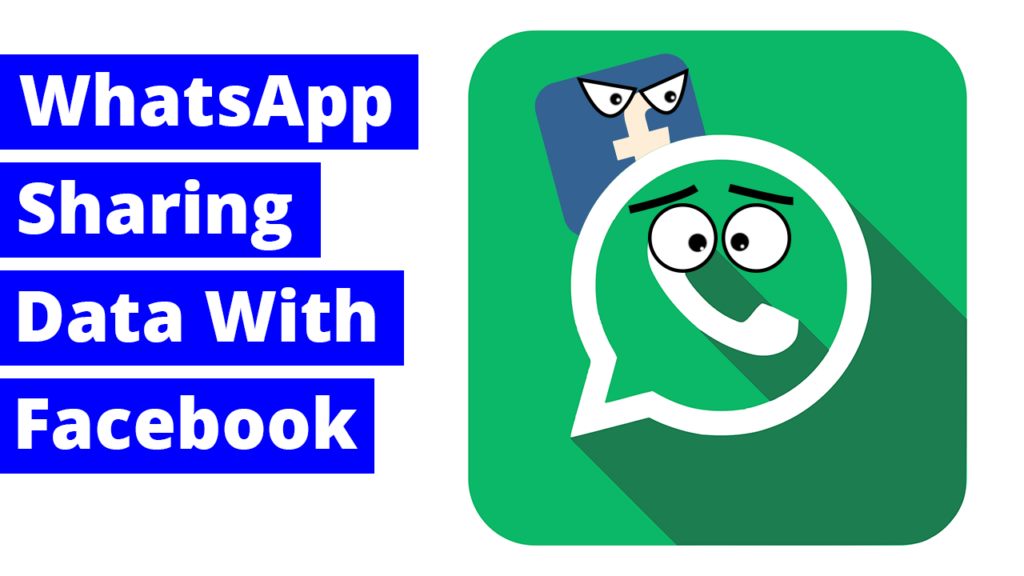 Facebook-owned WhatsApp is receiving backlash for recent changes to its privacy policy. The topic has started an international conversation about the expectation of privacy and consumer data rights. We summarize the situation and how the fallout is pushing the discussion forward.
The application
WhatsApp is the most popular messaging application, with over 2 billion active monthly users[1]. After Facebook purchased it in February 2014, privacy advocates became rightfully concerned. At the time, WhatsApp assured users it would not allow data sharing between the two companies. However, two short years later, in 2016, WhatsApp modified its terms and conditions to enable data sharing[2]. There was a grace period for users to opt-out of the sharing, but that option has long since expired.
This concerning development was partially offset by WhatsApp's implementation of end-to-end encryption for messages. End-to-end encryption means that only the intended recipient's device can decrypt messages from the sender. No third party can read or mine your messages. Conceived in 2014, the feature didn't receive full integration until 2016. Since then, privacy worries mostly dissipated even though their relationship with Facebook never changed. Until they released a privacy policy update in January 2021…
Breakdown of privacy policy changes
So, what nefarious language did WhatsApp include that triggered a backlash? If anything, it was minor updates to already-existing policies. We believe these policies should have drawn ire long before now, but better late than never. According to the policy, WhatsApp could already share the following information with Facebook[3]:
Phone numbers of both users and their contacts
Profile names and pictures
Metadata, including app logs, status messages (i.e., when a user last logged in), and diagnostics information.
The new policy only expands upon this specifically when communicating with businesses. Facebook now stores user chats with companies. They can also access any data within those chats[4]. Certainly not ideal, but perhaps the reaction wouldn't be so severe had they not required users to accept the changes by February 2021 or face account deletion. The combination of scary words such as "data collection," "sharing," and "Facebook" was exacerbated by an equally-frightening ultimatum. It came across as a power play rather than an update. Needless to say, people were not happy.
Harsh backlash
The backlash to the update was immediate. It became highly-publicized, with sensational headlines clogging up all of the internet's many tubes.
Then, celebrities took to Twitter to promote privacy-based alternatives such as Signal.
Use Signal

— Elon Musk (@elonmusk) January 7, 2021
Everybody can get back to uninstalling #Whatsapp now. https://t.co/dclPkSaWjH

— Edward Snowden (@Snowden) January 17, 2021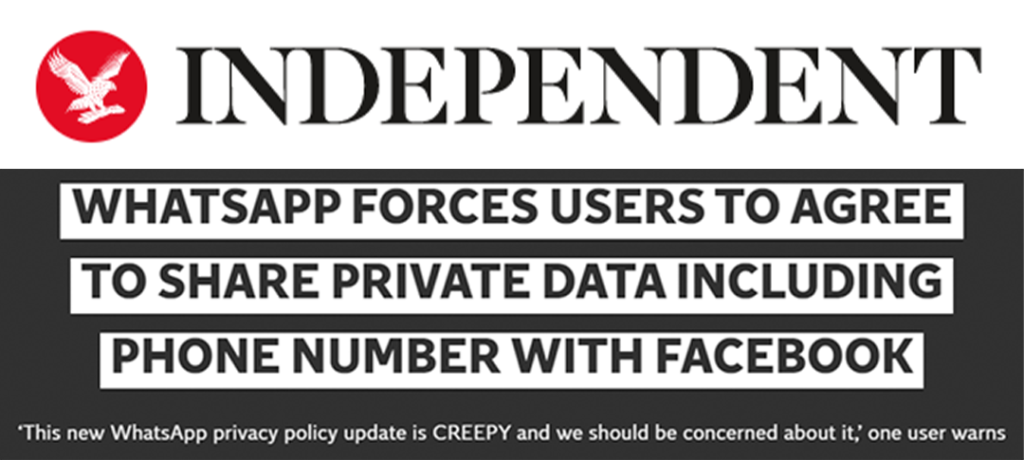 The hysteria around the policy announcement, along with the solicitation of alternatives from people such as Elon Musk, drove people to other encrypted messaging applications in droves. The open-source Signal app received the most significant boost. It is estimated that had at least 40 million new downloads within a week of the WhatsApp update.
Likewise, another private messaging client, Telegram, saw similar gains. In three days, they signed up 25 million new people for their service.

These substitute solutions are attractive due to their end-to-end encryption capabilities and the fact that Facebook, one of the biggest privacy offenders around, isn't involved at all. Both companies have more transparent privacy policies and offer compelling products. Time will tell if the poached users migrate back to WhatsApp or if the trend continues.
Signal experiences difficulties
Gaining tens of millions of new users in for a bandwidth-intensive service is going to strain servers. While Telegram already had a massive user base and could withstand a short-term spike in usage, Signal had significant problems.
The Signal Foundation is a nonprofit organization that relies on private funding and donations from users. Interestingly enough, former WhatsApp co-founder, Brian Acton, is on Signal's Board of Directors and remains one of its biggest funders[7]. Given its more "plucky underdog" status, it makes sense that the enormous increase in traffic caused issues. Within a week of its newfound popularity, the app experienced downtime and lost messages[8].
Consumers tend not to be sympathetic to poor user experiences. For the sake of all privacy apps, we hope that Signal can meet demand and deliver a great experience going forward. If people associate privacy-based alternative applications as "less than," they'll migrate back to the services they know.
WhatsApp combats misinformation
Undoubtedly feeling the heat, WhatsApp responded by clarifying the new policy and reassuring that they don't share most data with Facebook[9]. To informed privacy advocates, this seems more like damage control than anything else. While this update didn't have a significant amount of new information aside from the Businesses section, it shed light on an ongoing concern about how they share information with Facebook.
A new path forward
The WhatsApp controversy is encouraging. It shows that privacy issues can move the needle, demand mainstream media coverage, and cause tens of millions of people to switch to better solutions. In a time of corporate surveillance, government intrusion, and censorship, it's nice to see everyday people begin to wake up. We hope this trend continues and the right to privacy becomes a  standard consideration for app developers and service providers.
AXEL believes in the users' right to privacy and data custody. Our products embody this philosophy. Our blockchain-based, decentralized cloud storage and file-sharing platform, AXEL Go, lets you store or send files confidentially. We don't sell your information to advertisers or mine your files for data. It offers AES 256-bit encryption to keep your documents away from any would-be spies. Try it out today and receive 2GB of free storage and enough of our AXEL Tokens to fuel thousands of typical shares. The future doesn't have to be mass surveillance and constant data breaches. We're providing a different path. Won't you join us?
[1] J. Clement, "Number of monthly active WhatsApp users worldwide from April 2013 to March 2020", statista, April 30, 2020, https://www.statista.com/statistics/260819/number-of-monthly-active-whatsapp-users/#:~:text=As%20of%20March%202020%2C%20WhatsApp,billion%20MAU%20in%20February%202016
[2] Natasha Lomas, "WhatsApp's privacy U-turn on sharing data with Facebook draws more heat in Europe", TechCrunch, Sept. 30, 2016, https://techcrunch.com/2016/09/30/whatsapps-privacy-u-turn-on-sharing-data-with-facebook-draws-more-heat-in-europe/
[3] "WhatsApp Privacy Policy", WhatsApp.com, July 20, 2020, https://www.whatsapp.com/legal/privacy-policy?eea=0
[4] Andrew Griffin, "WHATSAPP NEW PRIVACY TERMS: WHAT DO NEW RULES REALLY MEAN FOR YOU?", Independent, Jan. 9, 2021, https://www.independent.co.uk/life-style/gadgets-and-tech/whatsapp-new-privacy-terms-facebook-rules-explained-b1784469.html
[5] Saheli Roy Choudhury, "Indian ministry reportedly asked WhatsApp to drop privacy policy changes that sparked backlash", CNBC, Jan. 19, 2021, https://www.cnbc.com/2021/01/20/india-has-reportedly-asked-whatsapp-to-withdraw-privacy-policy-update.html
[6] Tugce Ozsoy, Firat Kozok, "WhatsApp Dropped by Erdogan After Facebook Privacy Changes",
[7] Andy Greenberg, "WhatsApp Co-Founder Puts $50M Into Signal To Supercharge Encrypted Messaging", Wired, Feb. 2, 2018, https://www.wired.com/story/signal-foundation-whatsapp-brian-acton/
[8] Katie Canales, "Signal appears to be down for some users after the messaging app saw a record spike in downloads",  Business Insider, Jan. 15, 2021, https://www.businessinsider.com/signal-app-down-users-report-messages-sending-problems-outage-2021-1
[9] "Answering your questions about WhatsApp's Privacy Policy", WhatsApp, Jan. 2021, https://faq.whatsapp.com/general/security-and-privacy/answering-your-questions-about-whatsapps-privacy-policy